About / We encourage an atmosphere of openness to various cultures and ideas
We encourage an atmosphere of openness to various cultures and ideas
Welcome Message
Dear Students, Parents and Guardians,
With great joy and excitement, I extend a warm welcome back to all students, parents, and guardians as we begin another remarkable school year at American International School. As we come together once again, let's embrace the spirit of unity and cooperation with our school theme for the year:" We are better together." inspired by Ephesians 4:16.
At American International School, we believe when we stand united, we can achieve greatness. Just as the passage from 4:16 states. "From him, the whole body, joined and held together by every supporting ligament, grows and builds itself up in love; each part does its work." Each of us is a valuable member of the school community. When we work in harmony, we strengthen not only ourselves but the school community.
Our school is a melting pot of cultures, talents, and ideas. We cherish and celebrate the diversity that enriches our learning environment. Let us be open-minded, accepting, and respectful of one another's unique backgrounds, perspectives, and abilities. Together, we create an inclusive space where everyone feels valued and appreciated.
As educators, it is our responsibility to recognize and nurture the unique talents and potential of each student. Through personalized attention and support, we aim to help each other flourish and discover their strengths. Together, we will foster an environment where every student can shine and contribute to the collective growth and success of the school community.
Parents and guardians play a vital role in the education of their children. We recognize the importance of strong partnerships between home and school. By working together, and communicating openly, we can create a supportive network that ensures the success and well-being of our students.
As a part of our theme, we embrace the idea of giving back to the community. We will actively engage in service projects and initiatives that make a positive impact on those in need. Through acts of kindness and service, we learn the true meaning of compassion and empathy, strengthening the bonds that hold us together.
As we embark on this academic school year, we encourage our students to not only excel in academics but also cultivate strong character traits such as kindness, resilience, and integrity. Together, we will grow as individuals and as a collective force for good in the world. Let us remember that together, we can achieve greatness, overcome challenges, and create a nurturing and inspiring learning environment for our students.
May the 2023-2024 school year be filled with growth, unity, and memorable experiences for all of us.
Much love and blessings,
Dr. Tameica Jones
Head of School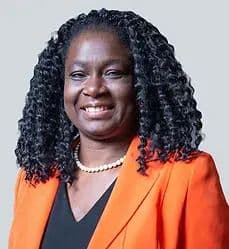 Are you ready to Enroll your Child?